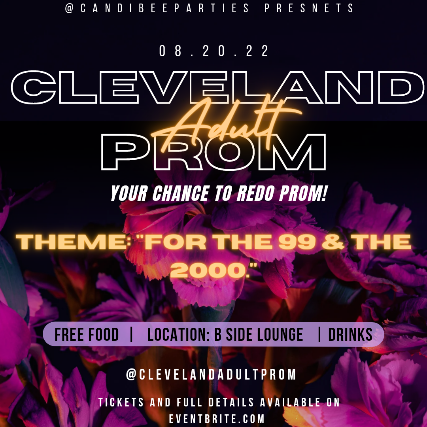 CLEVELAND ADULT PROM
Sat, Aug 20
Show:

7:00 pm
Saturday, August 20th

7:00P - 1:00A

CLEVELAND ADULT PROM: YOUR CHANCE TO REDO PROM!

Get those "promposals" ready and enjoy a throwback night of good throwback music, mixed with todays hits, bomb drinks, & dancing for the " '99 and the 2000! " themed Adult Prom.
*INFO LAST UPDATED 5/27/22* Date was June 25 NOW it is Aug 20th.
21+

ALL are welcome! ✊🏾🏳️‍🌈🙌🏻♿
Dress Code: Current and throwback prom styles are both encouraged!
You can wear a mask if that makes you feel comfortable, but it is not a requirement.
THERE WILL BE FREE FOOD! Trying to have vegan options included!
*Free drinks *Details coming soon!*
Throwback Photo Stations and games!
Tickets are non-refundable. HOWEVER, if I need to cancel, I will issue partial refunds! I would still like to have something to donate to Laura's Home, even if I have to cancel.
Part of theses proceeds will be going to Laura's Home Women's Crisis Center | The City Mission. I volunteered there many times and trust/support their mission.
______________________________________________________________________________________________________
About Laura's Home.....
"When a single woman or a mom with kids arrives at Laura's Home, we take intentional time to let them know they're safe and introduce them to what it means to participate in a personalized program track at Laura's Home. Our dedicated staff takes an individualized approach with every woman who comes to our crisis center.
A caseworker will complete an assessment with every individual and based on the needs of that individual, will recommend the best track to help them meet their goals. Tracks can last anywhere from a short-term emergency stay, to an entire year of completing classes and finding adequate housing and income. Our goal is to identify each person's unique needs and assist them with the best care and resources available.
Aside from providing for all basic needs, our staff begins to engage women through a personal caseworker, introductory crisis support groups, and linking the women with any collaborative services that are needed. Children are immediately supported through Pathways, in-house childcare, tutoring, and fun activities."
______________________________________________________________________________________________________
Show up, show out, and support a great cause!
Feel free to contact me directly for anything that was not addressed in the above text.
Brought to you by CandiBee Parties LLC
CEO: Brandi B.
IG: @ClevelandAdultProm
Email: [email protected]
---
DJ Nomadic