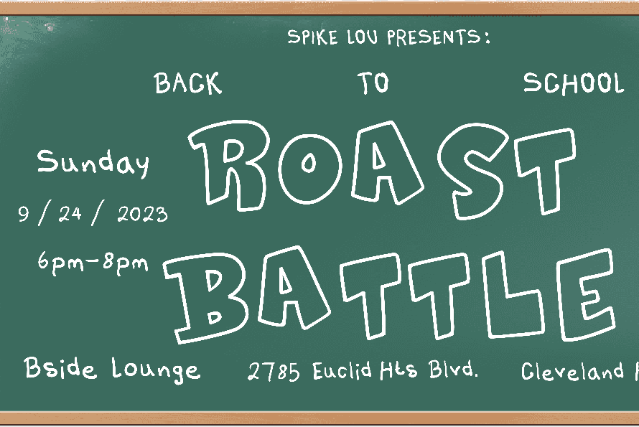 Spike Lou Presents: BACK TO SCHOOL Roast Battle
Sun, Sep 24
Show:

6:00 pm
Spike Lou Presents: The Cleveland vs. Everybody Roast Battle
Spike Lou, a renowned comedian and event organizer, is thrilled to announce the highly anticipated "Back to School Roast Battle" taking place on Sunday, September 24, from 6pm to 8pm at the Bside Lounge located at 2785 Euclid Hts Blvd, Cleveland Hts, Ohio.
The Back to School Roast Battle promises to be an evening filled with laughter, entertainment, and good times. Spectators will witness the most hilarious comedic showdowns as talented comedians step onto the stage to battle it out verbally, leaving no topic untouched.
This event is a great opportunity for those seeking a fun-filled night out in the Cleveland Heights area. Attendees will have the privilege of witnessing some of the region's most talented comedians showcasing their wit, humor, and creative roasting skills.
Ticket prices for this unforgettable event are set at $10 each. To secure a seat, interested individuals can conveniently purchase their tickets without any additional fees through Eventbrite. With limited seating available, it is recommended to secure tickets early to avoid disappointment.
For more information and to purchase tickets, please visit the Eventbrite page: https://www.eventbrite.com/.../spike-lou-presents-back-to...
Don't miss out on this incredible night of laughter and hilarity. Spike Lou Presents: The Back to School Roast Battle is set to be the talk of the town, offering an evening of comedy that you won't soon forget.
Media Contact:Spike Lou Promotions Email: [email protected] or call (216) 224-8396
---
Spike Lou